The Human Rights Implications of UK Extradition Policy
HL 156 & HC 767, Fifteenth Report of Session 2010-12 - Report, Together with Formal Minutes
Author:

House of Lords & House of Commons - Joint Committee on Human Rights

Publisher:

TSO (The Stationery Office)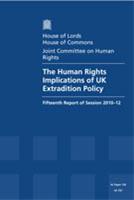 Add to Basket
'The Human Rights Implications of UK Extradition Policy (HC 767)' details the Joint Committee on Human Rights' determination that the current statutory framework does not provide effective protection for human rights.
The rights most often relevant to extradition are:
prohibition of torture,

fair trial,

liberty and security,

private and family life, and

prohibition of discrimination.
The Committee asks the Government to spell out detailed safeguards in the statutory framework and states that Parliament should be asked to commence the "most appropriate forum" safeguard in the Police and Criminal Justice Act 2006. The most appropriate forum safeguard would require the judge to consider whether it is in the interests of justice for the individual to be tried in the requesting country - and to refuse the extradition request if it is not.
The Committee also calls for:
a requirement for the requesting country to show a prima facie case or similarly robust evidential threshold in extradition cases.

negotiated changes to the European Arrest Warrant and a review of the provision of legal representation.
In conclusion the Committee deems it unnecessary to extend the power of the Secretary of State to refuse extradition to non-EU countries. The powers of the judge in an extradition case should instead ensure adequate protection of rights.

Find similar publications here:

Show all Subjects & Categories