Programmes To Help Families Facing Multiple Challenges
HC 878, Report by the Comptroller and Auditor General, Session 2013-14
Author:

National Audit Office (NAO)

Publisher:

TSO (The Stationery Office)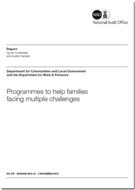 Add to Basket
The report 'Programmes To Help Families Facing Multiple Challenges (HC 878)' examines the progress of two government programmes introduced to help families with multiple challenges, such as unemployment, antisocial behaviour and truancy. The two programmes are already having an impact.
Troubled Families was introduced by the Department for Communities and Local Government (DCLG) to 'turn around' in three years the lives of 120,000 families estimated as facing multiple problems. Families with Multiple Problems was introduced by the Department for Work and Pensions (DWP) to move 22% of people in families with multiple problems towards employment within three years.
Both seek to join up the work of local service providers and both have elements of payment by results. The estimated cost to the taxpayer of providing additional services to the 120,000 families is currently some £9 billion a year. And, while it is too early to assess value for money there is evidence that families are beginning to benefit.
However, there is a risk that the expectations for the programmes will not be achieved. While local authorities in England have turned around 22,000 families to date by the DCLG's definition, only 62,000 families have been attached to the programme. This is 13% below the number of families that might reasonably have been attached.
The DWP and DCLG expected that local authorities would refer families to Families with Multiple Problems. However, referrals have been low and the programme is operating with only 26% of its expected volume of attachments. The DWP programme has achieved only 720 employment outcomes, just four per cent of its target and no provider met the Department's target for this measure.
Find similar publications here: