Oversight of Special Education for Young People Aged 16-25: Department for Education
HC 1585, Report by the Comptroller and Auditor General, Session 2010-12
Author:

National Audit Office (NAO)

Publisher:

TSO (The Stationery Office)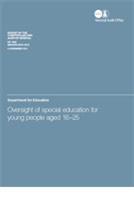 Add to Basket
'Oversight of Special Education for Young People Aged 16-25: Department for Education (HC 1585)' shows that, where comparable data is available, course outcomes for young people aged 16-25 receiving special educational support are improving at similar or better rates than those for all students within this age group. This performance has been achieved while known average special education funding per head has decreased in schools and further education colleges.
However, parents, students and local authorities do not always have the information they need to choose the school or college that best meets the young person's needs given the available funding. Assessments of young people's needs vary in quality, and local authorities do not always consider the full costs to the public purse of different placement options. There is insufficient knowledge about total cost of provision.
In addition, there are wide variations between local areas in the percentages of young people studying in different provider types (such as schools and colleges), and in the availability and use of specialist provision.
The Department for Education, in its 2011 Green Paper, has proposed significant changes to special education from birth to the age of 25. The NAO report suggests that providing appropriate support for young people with special needs has the potential to deliver longer-term benefits for students and to the public purse. The Department should address current limitations in information, and better understand the relationships between needs, costs and outcomes so that it can secure value for money from its expenditure in this area.

Related titles:
Find similar publications here:

Show all Subjects & Categories