Ofcom: the Effectiveness of Converged Regulation
HC 490, Report by the Comptroller and Auditor General, Session 2010-11
Author:

National Audit Office (NAO)

Publisher:

TSO (The Stationery Office)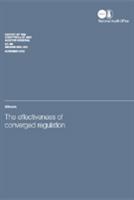 Add to Basket
'Ofcom: the Effectiveness of Converged Regulation (HC 490)' reports that over the last five years Ofcom has saved some £23 million, but that it is not possible to draw conclusions as to the extent to which Ofcom is delivering optimal value for the resources it uses.
This report finds that because of Ofcom's complex remit across the telecommunications sector, it needs a better articulation of the intended outcomes of its activities and how its work achieves those outcomes.
Taking into account the expansion of its remit and inflation, Ofcom, the independent regulator and competition authority for the UK communications sector, costs around 27% less in real terms (around £3 million per year more in cash terms) to run than its predecessors.
Ofcom spends over £70 million managing the radio spectrum, which generates income for the Government of about £200 million per year.
Analysis by the NAO suggests that there are many positive outcomes in the communications market: for example, prices have fallen and there is better choice and quality. However, there are still areas where improvements could be made. Three of the goods and services most complained about to the consumer helpline Consumer Direct are communications products (mobile phone service agreements, telephone landlines and internet service providers).
Most of Ofcom's stakeholders feel that it conducts its consultations well, but 44% of those the NAO surveyed feel that Ofcom does not go on to act in a timely manner. The frequency of appeals against Ofcom's regulatory decisions is an increasing challenge and they have cost Ofcom over £1 million per year since 2007-08.
Find similar publications here: