Strategic Financial Management of the Defence Budget: Ministry of Defence
HC 290, Report by the Comptroller and Auditor General, Session 2010-11
Author:

National Audit Office (NAO)

Publisher:

TSO (The Stationery Office)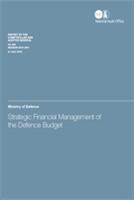 Add to Basket
The Ministry of Defence (MoD) does not place sufficient emphasis on financial management in its decision making and the finance function at the MoD does not have as central role in strategic planning as it should have, 'Strategic Financial Management of the Defence Budget: Ministry of Defence (HC 290)' reports.
Annual financial plans at the MoD have been over-committed. By the end of July 2009, the budget for the Department was exceeded by its forecast for the rest of that year by £700 million. When the assumptions underlying the plan for 2010-11 were reassessed, the forecast deficit grew from £185 million to over £500 million. The Department should make choices in setting its budgets and priorities and could use financial management more effectively to address those factors which are within its control.
The shortfalls in financial management have significant consequences. The over-commitment in future spending plans has led to additional savings being necessary. During 2009-10, the Department had to find additional savings of £800 million to bring its planned expenditure back into line with its budgets. Finding these reductions mid-year is a time-consuming and destabilising exercise. Many areas have to revisit or adjust their plans leading to delays, material changes to project specifications and costly renegotiation of contracts with industry. Delaying projects also leads to significant increases in the project cost.
The forthcoming Strategic Defence and Security Review will provide an opportunity for the Department to rebalance its future spending plans in the short term. Over the longer term, however, the challenge for the MoD will be to ensure that these plans remain in balance.

Find similar publications here:

Show all Subjects & Categories