Draft Climate Change Bill
Cm. 7040
Author:

HM Government

Publisher:

TSO (The Stationery Office)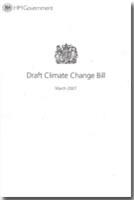 Add to Basket
This document contains a consultation document, the text of the draft Climate Change Bill, explanatory notes to the Bill, and a regulatory impact assessment, published for pre-legislative scrutiny and public consultation. The Bill will introduce a long-term framework for the UK to achieve its goals of reducing carbon dioxide emissions and adapting to the impacts of climate change. The consultation document discusses the context and rationale behind the Climate Change Bill and sets out the main reasons why legislation in this area is required.
The key elements of the Bill are:
setting targets in statute and carbon budgeting, with a statutory goal of a 60 per cent reduction in carbon dioxide emissions through domestic and international action by 2050, based on a new system of "carbon budgets" set at least fifteen years ahead (with reviews at five yearly intervals), and with progress reported annually to Parliament;

establishing an independent Committee on Climate Change to advise the government on how to reduce carbon emissions over time and across the economy;

creating enabling powers to allow the introduction of new domestic emissions trading schemes through secondary legislation; and

reporting requirements will enhance the overall transparency and accountability of UK action on climate change, with the Committee on Climate Change reporting annually to Parliament on progress towards budgets and targets, with the Government required to produce a response to this independent report.
The consultation closes 12 June 2007 and responses are invited using the electronic form that is available at www.defra.gov.uk/corporate/consult/climatechange-bill/index.htm although any electronic/written format will be accepted. Responses should be sent to: climatechangeconsultation@defra.gsi.gov.uk or by post to: Patrick Erwin / James Hardy, Climate Change Legislation Team, Area 4/F5, Ashdown House, 123 Victoria Street, London, SW1E 6DE.
Find similar publications here: