Measuring Well-being and Sustainable Development: Sustainable Development Indicators
HC 667, Fifth Report of Session 2012-13 - Volume I: Report, Together with Formal Minutes and Oral Evidence
Author:

House of Commons - Environmental Audit Committee

Publisher:

TSO (The Stationery Office)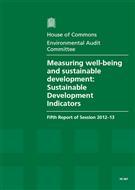 Add to Basket
According to the report 'Measuring Well-being and Sustainable Development: Sustainable Development Indicators (HC 667)', the new Sustainable Development Indicators don't do enough to hold the Government to account for inequalities in the environment and in our communities, as well as the economic inequalities that have long been obvious.
The Government should reconsider its proposal to drop the 'environmental equality' Sustainable Development Indicator (SDI) and review each of the other proposed SDIs to see how they might capture the range of values for how they affect people's lives, not just the average.
This report criticises the lack of targets in the new indicator set, despite there already being binding targets elsewhere in some areas covered by the SDIs, for emissions, air pollution and renewable energy.
The Government should instead use an indicator which reflects the extent to which public sector debt will be a burden rather than a boon for the next generation, such as Government bond rates.
The 'natural resource use' indicator is also of concern because it would monitor both finite and renewable resources taken together, potentially treating fossil fuels the same as other resources that need to be preserved for future generations to use.
The revision of the SDIs is running in parallel with the 'Measuring National Well-being' initiative, set up by the Prime Minister in 2010 and being run by the Office for National Statistics (ONS). The Committee identified some overlap between the two indicator frameworks which is likely to be unclear for the public and possibly also for policy-makers.
A single framework is recommended.

Find similar publications here:

Show all Subjects & Categories