Equity Investment in Privately Financed Projects: HM Treasury
HC 1792, Report by the Comptroller and Auditor General, Session 2010-12
Author:

National Audit Office (NAO)

Publisher:

TSO (The Stationery Office)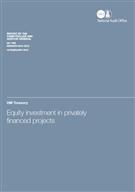 Add to Basket
'Equity Investment in Privately Financed Projects: HM Treasury (HC 1792)' reports on the agreement for banks or bondholders to provide around 90% of the project funding for a Privately Financed Investment (PFI) project, on the condition that the remaining money is provided by the investors as risk capital or equity.
This report identifies three potential inefficiencies in the pricing of equity.
the time and costs of bidding;

minimum rates set by investors, which sometimes do not reflect the actual risks the project will face; and

bank requirements.
The NAO shows how further analysis during the bidding process would help authorities to assess the reasonableness of the investor returns. Some investors in successful projects have gone on to sell shares in their equity to release capital and fund new projects.
It concludes that, generally, public sector authorities have not been equipped with the skills and information required to challenge investors' proposed returns rigorously.

Related titles:
Find similar publications here:

Show all Subjects & Categories