Avantix Traveller Fares Information CD-ROM
04 September 2011 - 02 January 2012 (or until further notice) NFM 10
Author:

Association of Train Operating Companies (ATOC)

Publisher:

TSO (The Stationery Office)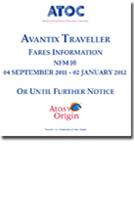 The 'National Rail Fares CD-ROM (NFM 10)' provides details of fare information to and from all Great Britain National Rail stations effective from 04 September 2011 to 02 January 2012. The National Rail fares CD, produced three times per year, contains rail fares for all journeys within Great Britain. This edition contains all fare information for GB rail stations and is valid from 04 September 2011 - 02 January 2012.
Contents
Fares Information only. The Association of Train Operating Companies (ATOC) is not liable for any errors contained within the CD. Please check the National Rail website - www.nationalrail.co.uk - or call National Rail Enquiries on +44 (0)8457 48 49 50 for up to date fares information, including any special fares discounts and promotions not included on the CD.
Conditions
Purchasers will be expected to adhere to the Terms & Conditions Agreement that will accompany the CD and will not amend or misrepresent the data. The CD is copyright to ATOC 2011.
Association of Train Operating Companies (ATOC)
The Association of Train Operating Companies (ATOC) is an unincorporated association owned by its members, set up by the train operators formed during privatisation of the railways under the Railways Act 1993. As well as being the official voice of the passenger rail industry, it also provides its members with a range of services that enable them to comply with conditions laid on them in their franchise agreements and operating licences.