The BCAP Code
The UK Code of Broadcast Advertising
Author:

Broadcast Committee of Advertising Practice

Publisher:

TSO (The Stationery Office)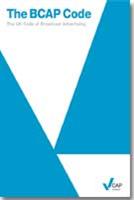 All UK TV and radio advertisements must comply with the mandatory BCAP Code (The UK Code of Broadcast Advertising). Broadcasters and advertisers have a duty to ensure the ads are in line with the spirit as well as the letter of the Code before they are aired.
The BCAP Code is administered by the Advertising Standards Authority (ASA) as the UK's independent advertising regulator. The Code reflects and complements the law, and demands that all ads must be legal, decent, honest and truthful in order not to mislead, harm or offend.
This new BCAP Code combines into one book the previous four separate broadcast Codes (Radio, TV, TV scheduling, Text Services). The new Code demands that all UK advertisements are developed with a sense of social responsibility.
The new BCAP Code contains important information on sector or audience-specific rules that are intended to protect consumers and provide a level playing field for advertisers.
For example, the BCAP Code includes rules that cover advertising and children, environmental claims, and specific categories such as alcohol, food and nutrition, gambling, motoring, charities, medicines and health, premium rate phone services.