Referral Fees and the Theft of Personal Data: Evidence from the Information Commissioner
HC 1473, Ninth Report of Session 2010-12 – Report, Together with Formal Minutes and Oral Evidence
Author:

House of Commons - Justice Committee

Publisher:

TSO (The Stationery Office)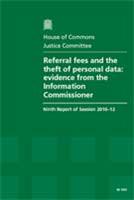 Add to Basket
Breaking data protection laws can be extremely profitable and the impact of the crime can be severe. 'Referral Fees and the Theft of Personal Data: Evidence from the Information Commissioner (HC 1473)' raises concerns that fines provide an inadequate deterrent when the financial rewards for illegal behaviour are so great.
Magistrates and Judges need to be able to hand out custodial sentences when serious misuses of personal information come to light. Parliament has provided that power, but Ministers must bring it into force.
Potential misuses of personal data are also not being fully investigated, the MPs warn, because the Information Commissioner does not have the power to compel private sector organisations to undergo information audits. If the Commissioner had been able to compel audits of insurance companies and personal injury lawyers the issues around referral fees might have been identified and tackled sooner. Ministers must examine how to enable the Commissioner to investigate properly without increasing the regulatory burden on business or the public sector.
The Committee welcomes the Government's commitment to ban referral fees in personal injury cases. The MPs call on Ministers to take into account the fact that referral fees reward a range of illegal behaviour.
The report concludes that banning referral fees, together with custodial sentences for breaches of Section 55 of the Data Protection Act, would increase the deterrent and reduce the financial incentives for such offences.

Find similar publications here:

Show all Subjects & Categories