The Airports Commission Report: Carbon Emissions, Air Quality And Noise
HC 389, First Report of Session 2015-16 - Report, Together with Formal Minutes Relating to the Report
Author:

House of Commons - Environmental Audit Committee

Publisher:

TSO (The Stationery Office)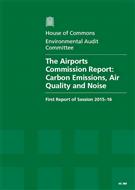 Add to Basket
'The Airports Commission Report: Carbon Emissions, Air Quality And Noise (HC 412)' examines the Government's willingness to address the significant environmental implications of the Airports Commission's recommendation in relation to carbon emissions, air quality and noise.
If the Government decides to accept the Airport Commission's recommendation, the Committee will invite the Secretary of State for Transport to give evidence to the Committee on the Government's approach to these issues. If the Government decides to go ahead with the Commission's recommended option, it needs to demonstrate a step change in their approach to mitigating the environmental impact.
Ministers will need a high degree of certainty that their own policies are robust enough to deliver the mitigations required. They will need to set out, before making the final decision to go ahead, clear and binding responsibilities and milestones to ensure environmental standards are enforced and measures can be implemented, monitored and evaluated in a timely way. Failure to do so could see the project caught up in protracted legal disputes, lead to environmental standards being missed and introduce an element of commercial risk.
Find similar publications here: