Consultation On A New Magna Carta?
HC 599, Seventh Report of Session 2014-15 - Report, Together with the Formal Minutes Relating to the Report
Author:

House of Commons - Political and Constitutional Committee

Publisher:

TSO (The Stationery Office)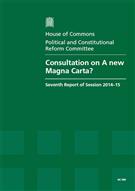 Add to Basket
In July 2014 the Committee published three blueprints for constitutional codification to commemorate the Magna Carta's 800th Anniversary, including a full written constitution, and asked the public to send in their comments on the drafts (see below). The report 'Consultation On A New Magna Carta? (HC 599)' examines the responses to the consultation.
Some 3,000 people engaged in the consultation exercise, through written submissions, surveys and social media. The Committee has asked the author of the three blueprints, Professor Robert Blackburn of King's College London, to review the comments and to update his drafts.
Responding to calls for a clearer and more accessible text for debate on a written constitution, the Committee today publishes a draft summary constitution, with options for reform, which it hopes will stimulate further debate on constitutional issues.
The Committee was appointed for the lifetime of the present Parliament to consider political and constitutional reform issues. It strongly recommends that a similar committee be set up in the new Parliament to take its work forward; if not, it recommends that an existing committee with a remit to consider constitutional issues should carry on its work.
Find similar publications here: