Leadership For The Long Term: Whitehall's Capacity To Address Future Challenges
HC 669, Third Report of Session 2014-15 - Report, Together with Formal Minutes Relating to the Report
Author:

House of Commons - Public Administration Select Committee

Publisher:

TSO (The Stationery Office)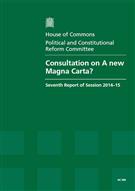 Add to Basket
There are some Government policies which represent genuine efforts to confront long-term challenges on a cross-government basis, such as the Better Care Fund, which aims to improve the integration of health and social care services for older and disabled people; the report 'Leadership For The Long Term: Whitehall's Capacity To Address Future Challenges (HC 669)' examines how current policies are dealing with a broad range of long-term challenges.
Whitehall is developing useful tools such as the National Risk Register, assessing probabilities like natural disasters and terrorist attacks; while Whole of Government Accounts provide deeper understanding of matters such as the £2,893 billion long-term liabilities of Government. However, the report identifies that there is no comprehensive understanding across Government as a whole of the future risks and challenges facing the UK.
The most surprising and urgent gap found was in HM Treasury, with insufficient evidence that it has absorbed a key lesson of the 2007-08 financial crash. The Treasury does contingency planning and the Bank of England's role and structures have been strengthened, yet the financial and economic risks are not included in the Government's National Risk Register, so the Government does not consider these systemic risks alongside other, non-financial risks, such as pandemic flu and antimicrobial resistance. Furthermore, different responsibilities and functions are divided between the Bank of England, Financial Conduct Authority and the Treasury.
The Committee recommends that the Treasury should undertake planning for a range of crisis scenarios based on a broad range of forecasts, data sources and assumptions, and which may be triggered by non-financial as well as financial events. It should conduct desk-top exercises to test institutional responses and systemic resilience. This should inform a wider programme of cross-government exercises to test policy resilience.
Find similar publications here: