Energy Network Costs: Transparent And Fair?
HC 386, Sixth Report of Session 2014-15 - Report, Together with Formal Minutes Relating to the Report
Author:

House of Commons - Energy and Climate Change Committee

Publisher:

TSO (The Stationery Office)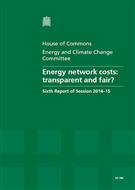 Add to Basket
The report 'Energy Network Costs: Transparent And Fair? (HC 386)' examines the application of network costs to energy bills.
Network costs, which cover the transmission and distribution of gas and electricity from power stations to households and industry, are a very significant component of household and industrial energy bills. Ofgem has created a new regulatory framework (RIIO) that was designed to ensure that costs were competitive and that profits weren't excessive, but there is clear evidence that network companies are making higher profits than expected.
This suggests that the targets and incentives set by Ofgem are too low, barriers to market entry are high and that Ofgem needs to monitor RIIO more effectively and to equip RIIO with stronger, corrective measures. Ofgem has not yet created the conditions for the market to thrive and provide consumers with best value for money.
In the short-term, market conditions can be improved if:
(i) an interim independent audit of price controls is conducted;
(ii) the 40-day notification period for price changes is increased to 15 months; and
(iii) stronger, corrective measures are applied to companies that have received incentive payments for reducing leakages when such reductions have not taken place.

Related titles:

Show all Subjects & Categories