Revisiting the Cabinet Manual
HC 233, Fifth Report of Session 2014-15 - Report, Together with Formal Minutes Relating to the Report
Author:

House of Commons - Political and Constitutional Reform Committee

Publisher:

TSO (The Stationery Office)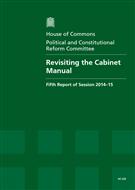 Add to Basket
Cabinet Manual provides a source of information on the laws, conventions and procedures that affect the operation and procedures of the Government; the report 'Revisiting the Cabinet Manual (HC 233)' urges the Cabinet Secretary to set out the Government's view of the constitutional principles that will underpin the continuance in office or otherwise, of an administration following a general election.
The Cabinet Manual sets out some important rules on constitutional issues that are of public interest, such as when the sitting Prime Minister at a general election who is unlikely to command a majority in the Parliament just elected, should tender their resignation.
The Committee believes the Manual should be revised at least every Parliament, since a document which is not regularly updated to reflect relevant developments will lack authority, especially on the arrival of a new administration.
The Cabinet is advised to publish matters which need to be amended when the Manual is next revised, and should mark up the online version of the Manual at places where revisions are expected.
Find similar publications here: