Action On Air Quality
HC 212, Sixth Report of Session 2014-15 - Report, Together with Formal Minutes Relating to the Report
Author:

House of Commons - Environmental Audit Committee

Publisher:

TSO (The Stationery Office)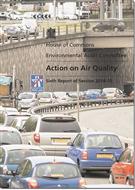 Add to Basket
The report 'Action On Air Quality (HC 212)' examines the Government's performance in improving air quality in UK towns and cities.
The UK Government has been found guilty of failing to meet EU air quality targets in cities, some of which will not meet the required limits until 2030. Regardless of EU rulings, it is unacceptable that UK citizens could have their health seriously impaired over decades before this public health problem is brought under control. Meeting EU standards should be the minimum requirement.
The Committee recommends that the Government must act urgently to:
update the 2007 Air Quality Strategy, adopting a cross-Government approach with clear demarcation of responsibilities between departments and between central and local government;

meet EU nitrogen dioxide targets as soon as possible;

engage with local authorities to establish best practice in tackling air pollution across the UK;

introduce a national framework for low emission zones to help local authorities reduce air pollution;

adjust planning guidance to protect air quality in local planning and development;

build in air quality obligations to transport infrastructure;

examine fiscal and other measures to gradually encourage a move away from diesel vehicles towards low emission options;

close legal loopholes to end the practice of removing filter systems from existing vehicles;

apply pressure at European level to ensure effective EU legislation and emission standards backed up by a robust testing regime; and

institute a national public awareness campaign to increase understanding, publicising the UK-AIR forecast website and encourage measures to reduce air pollution.
Find similar publications here: