Voter Engagement In The UK
HC 232, Fourth Report of Session 2014-15 - Report, Together with Formal Minutes Relating to the Report
Author:

House of Commons - Political and Constitutional Reform Committee

Publisher:

TSO (The Stationery Office)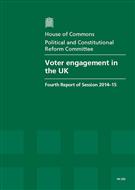 Add to Basket
The report 'Voter Engagement In The UK (HC 232)' examines the low level of engagement with voting in elections in the UK.
Since 1945, turnout for general elections in the UK has fallen from a high of 83.9% in 1950 to a low of 59.4% in 2001. Turnout for the 2010 general election was 65.1% higher than the previous two general elections, but still the third lowest since the introduction of universal suffrage. At the last general election, turnout was also low compared with turnout at the last parliamentary elections in other European Union countries.
There is also evidence that a significant number of people in the UK are not registered to vote, with the most recent estimates indicating that the electoral register was between 85% and 87% complete. This would mean that approximately 6.5 million people are missing from the electoral register.
In light of this, the Committee agrees to conduct an inquiry into voter registration and turnout in the UK.
Find similar publications here: