Managing The Care Of People With Long-Term Conditions
HC 401, Second Report of Session 2014-15 - Volume I: Report, Together with Formal Minutes, Oral and Written Evidence
Author:

House of Commons - Health Committee

Publisher:

TSO (The Stationery Office)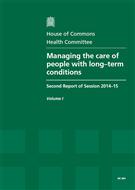 Add to Basket
The report 'Managing The Care Of People With Long-Term Conditions (HC 401)' examines the costs of 15 million NHS patients in England with long-term conditions such as diabetes, arthritis and asthma which account for 70% of the annual expenditure of the NHS in England.
One projection estimating that the bill for treatment of long-term conditions will require the NHS to find £4 billion more each year by 2016. Increasingly, patients do not have a single long-term condition but live with two or more conditions, complicating treatment and adding to its cost.
The Committee strongly supports the development of individual care planning for people with long-term conditions, based on the principles successfully demonstrated in the NHS House of Care programme. Care planning approaches will involve GPs, community health services and specialists sitting down with the patient to draw up a personalised plan for the care required, which includes the support needed to help the patient manage his or her own condition; however, the challenge of introducing personalised care planning for 15 million people is substantial.
The report looks at the prevailing view that services to treat long-term conditions should be moved out of hospitals and into primary and community care. To provide effective care for these conditions the services have to be maintained across all settings - from support in the home through to acute specialist care, and many conditions will continue to require specialist services delivered in hospital.
Effective management of long-term conditions will also require further collaboration with other Government providers, such as housing and transport services.
Find similar publications here: