Better Roads: Improving England's Strategic Road Network
HC 850, Fifteenth Report of Session 2013-14 - Report, Together with Formal Minutes Relating to the Report
Author:

House of Commons - Transport Committee

Publisher:

TSO (The Stationery Office)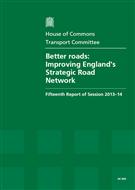 Add to Basket
The report 'Better Roads: Improving England's Strategic Road Network (HC 850)' examines the future of the Strategic Road Network (SRN), a crucial part of the national transport system. The Department for Transport (DFT) predicts traffic levels on the SRN to rise by 46% by 2040.
The network has suffered from inconsistent funding and changes in Government policy over the past two decades. If the traffic forecasts are correct, the Government will need to increase investment in the road network substantially during the next decade. This requires new long-term funding streams. A consensus would be required to introduce any road user charging scheme across the SRN and the many issues involved would have to be resolved.
The DFT must develop a transparent system of road planning as part of a wider national transport strategy. The DFT's National Transport Model should be subject to wider scrutiny and DFT should commission integrated passenger and freight plans for strategic transport routes, rather than looking at one mode of transport in isolation.
The Committee is not convinced by the case for establishing the Highways Agency as a Government owned company. The benefits seem achievable through better management of the current agency and its relationship with the DFT. If the Highways Agency becomes a Government owned company, it will need a strong system of scrutiny. The current proposals for this are inadequate. The new scrutiny body will need the power of a full regulatory authority.
Find similar publications here: