Safety At Level Crossings
HC 680, Eleventh Report of Session 2013-14 - Report, Together with Formal Minutes Relating to the Report
Author:

House of Commons - Transport Committee

Publisher:

TSO (The Stationery Office)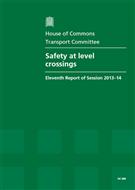 Add to Basket
Level crossings are a significant source of risk on the UK's transport networks, although the number of accidental deaths at level crossings has decreased in recent years, nine people died in 2012-13. Every one of those deaths was a personal tragedy which could have been averted; the report 'Safety At Level Crossings (HC 680)' recommends that the Office of Rail Regulation (ORR) responsible for rail safety, adopts an explicit target of zero fatalities at level crossings from 2020.
Calculating which level crossings are the most risky is complex, but the Committee estimates that there may be many hundreds of crossings which exceed Health and Safety Executive guidance on the acceptable level of fatality risk to the public. Network Rail should be more transparent about its assessment of risk at level crossings, as well as its plans for closures and improvements.
The Committee also recommends that Network Rail continue to employ level crossing managers to focus on improving safety, but expressed concern that the ORR may not have enough appropriately qualified and experienced staff to provide adequate inspection of the rail network, or to adequately challenge Network Rail's signalling work plans.
Network Rail also needs to demonstrate that it has transformed the way in which it deals with people whose lives have been changed by accidents at level crossings.
Further recommendations of the report include:
driver training;

teaching schoolchildren about rail safety;

the legal framework for level crossings;

road signage; and

whistleblowing in the rail industry.

Find similar publications here:

Show all Subjects & Categories