Energy Prices, Profits And Poverty
HC 108, Fifth Report of Session 2013-14 - Volume I: Report, Together with Formal Minutes, Written and Oral Evidence
Author:

House of Commons - Energy and Climate Change Committee

Publisher:

TSO (The Stationery Office)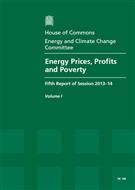 Add to Basket
The report 'Energy Prices, Profits And Poverty (HC 108)' investigates how much profit is being made by energy companies as the result of rising energy costs.
At a time when many people are struggling with the rising costs of energy, consumers need reassurance that the profits being made by the six largest energy companies are not excessive.
The six largest companies are complex with several different arms that sometimes sell energy and services to other parts of the same company. When reporting overall profits, these companies include all these different business arms, making it difficult to determine the precise profits of the energy supply side of the business and how this impacts upon energy prices. Greater transparency is urgently needed.
Considering consumers' lack of confidence in energy companies Ofgem should reconsider whether the transparency to be gained by implementing more of BDO's recommendations outweighs the costs involved. Ofgem is failing consumers by not taking all possible steps to improve openness and increase competition in the energy market.
The government is also not doing enough to help the millions of low-income families living in poorly insulated homes, struggling in fuel poverty. Spending on the problem has been cut in England and some of the government's fuel poverty programmes appear to be in hiatus. The use of levies on bills to fund social and environmental programmes will add to the burden faced by energy bill payers.
To help protect the most vulnerable more programmes should be funded through direct taxation rather than levies and the Government must respond to the Hills Review as a matter of urgency.
Find similar publications here: