Smart Meter Roll-Out
HC 161, Fourth Report of Session 2013-14 - Volume I: Report, Together with Formal Munites, Oral and Written Evidence
Author:

House of Commons Energy and Climate Change Committee

Publisher:

TSO (The Stationery Office)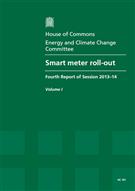 Add to Basket
Mass roll-out of smart-meters is due to take place between 2015 and 2020, and will see energy companies install approximately 53 million smart meters. The report 'Smart Meter Roll-Out (HC 161)' examines the government's plans for the roll-out.
The Department of Energy and Climate Change (DECC) estimates that roll-out will cost around £12.1 billion and deliver benefits of £18.8 billion.
Projected benefits of the roll-out include:
Projected benefits of the roll-out include:

Easier switching;

Energy and bill savings for consumers; and

Operational savings for energy suppliers.
Smart meters could also facilitate the creation of a smart grid that will help to balance peaks and troughs in electricity supply and demand, but the extent to which they will do this is unclear.
DECC, Ofgem and some energy suppliers have suggested that competition in the market will ensure that costs are kept down and that benefits are passed on to consumers through lower energy prices, but the energy market may not be sufficiently competitive to ensure this is the case.
Consumer acceptance of and engagement with smart metering is crucial to the success of roll-out. DECC and Ofgem have taken to ensure that consumers will receive advice about smart meters and energy efficiency when the meters are installed. However, the benefits of receiving this information may be lost or significantly reduced if there are gaps in communications coverage.
Suppliers should also not be pressed to roll-out earlier versions of smart meters now if they prefer to wait for a version that fully meets the technical specifications. DECC should retain some flexibility in the new timetable, which should be driven by engineering and infrastructure requirements and the need to avoid cost escalation
Find similar publications here: