Revisiting Rebuilding The House: The Impact Of The Wright Reforms
HC 82, Third Report of Session 2013-14 - Report, Together with Formal Minutes, Oral and Written Evidence
Author:

House of Commons - Political and Constitutional Reform Committee

Publisher:

TSO (The Stationery Office)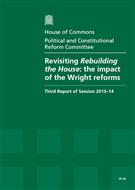 Add to Basket
'Revisiting Rebuilding The House: The Impact Of The Wright Reforms (HC 82)' reviews progress on the recommendations of the Select Committee on Reform of the House of Commons, known as the Wright Committee, and looks forward.
The report concludes that:
Commons select committees are more effective. Election of select committee chairs and members by MPs in a secret ballot, rather than being appointed by the whips, has brought greater transparency and democracy;

The Backbench Business Committee has been a success, giving backbenchers the chance to decide the subjects of debates covering about a quarter of the House's time;

A House Business Committee, which would give backbenchers an influence on the rest of the House's agenda can be and should be introduced without delay; and

The House's petitions procedure is failing to meet public expectations.
There is too much confusion between the roles of Government and Parliament. The Committee argues that there is still a case for the establishment of a petitions committee and recommends that officials work up a detailed and costed proposition which could then be put to the House for its endorsement .
Find similar publications here: