Autumn Statement 2012: Environmental Issues
HC 328, Fourth Report of Session 2012-13 - Volume I: Report, Together with Formal Minutes, Oral and Written Evidence
Author:

House of Commons - Environmental Audit Committee

Publisher:

TSO (The Stationery Office)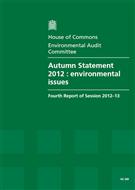 Add to Basket
A Treasury led 'dash for gas' could make the UK's carbon targets under the Climate Change Act unachievable, according to the Environmental Committee report 'Autumn Statement 2012: Environmental Issues (HC 328)'.
The Committee is calling on the Government to restore investor confidence in the future direction of energy policy, by setting a clear de-carbonisation objective in the forthcoming Energy Bill, to clean up the power sector by 2030.
Ongoing policy uncertainty could mean that the UK loses out on millions of pounds of green investment. Global competition for green growth is fierce and the UK is competing with other countries to secure renewable energy investment.
The Committee heard a variety of suggestions to boost the take-up of energy efficiency measures, and received suggestions for new environmental taxes that could be implemented.

Find similar publications here:

Show all Subjects & Categories