Racism in Football
HC 89, Second Report of Session 2012-13 - Volume I: Report, Together with Formal Minutes, Oral and Written Evidence
Author:

House of Commons - Culture, Media and Sport Committee

Publisher:

TSO (The Stationery Office)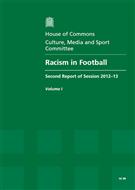 Add to Basket
'Racism in Football (HC 89)' concludes that the atmosphere experienced by those attending football matches has changed hugely since the 1970s when racial and other forms of abuse were common; match attendance has become a family-friendly activity, but transparent and consistent methods for reporting criminal behaviour - including racism, are still lacking.
There remain significant problems ranging from homophobic abuse to what is often described as 'laddish behaviour' on the terraces, and clubs must continue to introduce measures to try to improve the standards of behaviour at matches.
Recommendations of the Committee include:
the FA need to develop procedures for stewards to follow and regular training opportunities to ensure that all relevant staff at club grounds are capable of reacting swiftly and consistently to incidents of abuse;

efforts made at league and club level to ensure successful prosecutions in cases of racial abuse are welcomed and similar efforts should be applied to the grassroots game;

all appointments should be based on merit alone irrespective of the candidates' race; and

candidates from ethnic minorities should be trained as coaches and referees, to ensure that clubs and boards can select from a more diverse pool of recruits.
Find similar publications here: