The Government Procurement Card
HC 128, First Report of Session 2012-13 - Report, Together with Formal Minutes, Oral and Written Evidence
Author:

House of Commons - Committee of Public Accounts

Publisher:

TSO (The Stationery Office)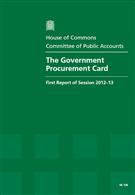 Add to Basket
The Committee of Public Accounts highlights the significant risks involved in inappropriate or fraudulent use of Government Procurement Cards (GPC), the report 'The Government Procurement Card (HC 128)' finds.
The GPC is a payment card which individuals can use to purchase goods and services; the supplier is paid immediately and the balance is paid in full each month by departments.
The strength of controls in place varies significantly between departments. Around 75% of GPC expenditure is accounted for by the Ministry of Defence with only limited checks on a sample of transactions made.
The Cabinet Office has overall responsibility and recently created a GPC Steering Group. The Steering Group introduced a central GPC policy in November 2011, setting out a minimum standard across government. The central policy should consider going further, for example by specifying: 100% transaction checking, blocking categories of expenditure by default, banning use of the card for certain items (such as alcohol) and ensuring that all cardholders are permanent staff members. However, the initial challenge will be for the GPC Steering Group to ensure that the policy as it stands is being implemented, and to hold departments to account where there are found to be gaps in the design and implementation of controls.
As procurement processes have advanced substantially, the estimated difference in cost of using a card over other methods has reduced.
The Cabinet Office has now committed to refreshing the business case, which should help departments to make the right decisions about using the cards in the most cost-effective way of buying goods and services.

Find similar publications here:

Show all Subjects & Categories