Taking Forward Community Budgets
HC 1750, Ninth Report of Session 2010-12 - Report, Together with Formal Minutes, Oral and Written Evidence
Author:

House of Commons - Communities and Local Government Committee

Publisher:

TSO (The Stationery Office)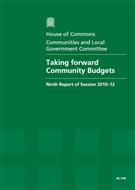 Add to Basket
'Taking Forward Community Budgets (HC 1750)' is a brief report to outline the issues that will provide a starting point for a full inquiry into the Community Budgets initiatives next year.
Community Budgets were introduced in October 2010 as part of the Spending Review. The aim of the initiatives was to give local public service partners the freedom to work together to redesign services around the needs of citizens.
Following the riots in summer 2011 the focus of these Community Budgets changed and the troubled families programme was introduced in December 2011, with the aim to change the lives of 120,000 troubled families by the end of the current Parliament.
Scrutiny of the current Community Budgets will be carried out in separate stages. For the first stage, the Commitee has invited written evidence and held a single oral evidence session that outlines the questions raised to assist in their subsequent work.
The report contains no conclusions or recommendations to the Government.
Find similar publications here:

Show all Subjects & Categories