Roots of Violent Radicalisation
HC 1446, Nineteenth Report of Session 2010-12 - Volume I: Report, Together With Formal Minutes, Oral and Written Evidence
Author:

House of Commons - Home Affairs Committee

Publisher:

TSO (The Stationery Office)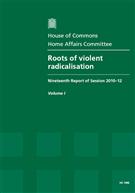 Add to Basket
In this report, 'Roots of Violent Radicalisation (HC 1446)', the Home Affairs Committee concludes that the internet is one of the most significant vehicles for promoting violent radicalism - more so than prisons, universities or places of worship, although direct, personal contact with radicals is in many cases also a significant factor.
Although there are statutory powers under the Terrorism Act 2006 for law enforcement agencies to order unlawful material to be removed from the internet, the Committee recommends that internet service providers themselves should be more active in monitoring the material they host, with appropriate guidance, advice and support from the Government. The Government should work with internet providers to develop a code of practice for the removal of material which promotes violent extremism. There should be more support for civil society groups who want to challenge on-line extremist material.
In addition, the Committee highlights:
the need for better liaison and information-sharing between prison authorities, the police, the UK Border Agency and other relevant authorities following the release of prisoners who have been convicted of terrorist offences or who are otherwise considered to be at risk of violent radicalisation;

the importance of reviewing the list of proscribed organisations - the prospect of de-proscription could create an incentive for organisations to renounce their support for violence; and

the threat from the far-right, so far not an organised threat.
The current name of the counter-radicalisation strategy, "Prevent", should be changed to "Engage", to reflect a more supportive, partnership-based approach to working with those at risk of radicalisation.

Find similar publications here:

Show all Subjects & Categories