Joint Enterprise
HC 1597, Eleventh Report of Session 2010-12 - Report, Together with Formal Minutes, Oral and Written Evidence
Author:

House of Commons - Justice Committee

Publisher:

TSO (The Stationery Office)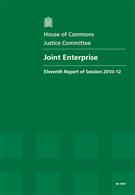 Add to Basket
The Justice Committee report 'Joint Enterprise (HC 1597)' finds that the law on joint enterprise is so confusing for juries and courts alike that legislation is needed urgently to ensure justice for both victims and defendants and end the high number of cases reaching the Court of Appeal.
Joint enterpise is a form of secondary liability whereby a person who agrees to commit a crime with another becomes liable for all criminal acts committed by the other person (the principal offender) in the course of their joint criminal venture. It is a common law doctrine, which means it has been developed by the courts over the years.
MPs call on the Director of Public Prosecutions to produce guidance for prosecutors on joint enterprise, particularly in cases of gang-related homicide. The Director should collate data on the number of people charged under joint enterprise so that problems with the operation of the law identified by campaigning groups representing both victims and those that say they have been convicted in a miscarriage of justice can be alleviated if necessary.

Find similar publications here:

Show all Subjects & Categories