The National Planning Policy Framework
HC 1526, Eighth Report of Session 2010-12 - Volume I: Report, Together With Formal Minutes, Oral and Written Evidence
Author:

House of Commons - Communities and Local Government Committee

Publisher:

TSO (The Stationery Office)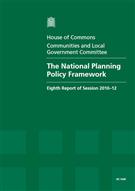 Add to Basket
'The National Planning Policy Framework (HC 1526)' report by the Communities and Local Government Committee recommends that a default answer of 'yes' to development should be removed from the National Planning Policy Framework (NPPF).
The phrase 'significantly and demonstrably' must also be removed from the presumption that all planning applications should be approved unless the adverse effects 'significantly and demonstrably' outweigh the benefits, because it adds a further barrier to the achievement of truly sustainable development.
The definition of 'sustainable development' is inadequate and often conflated with 'sustainable economic growth'. The framework gives the impression that greater emphasis should be given in planning decisions to economic growth, undermining the equally important environmental and social elements of the planning system.
The NPPF should require local planning decisions to be taken in accordance with a redefined 'presumption policy' in favour of sustainable development and consistent with Local Plans. It is unacceptable that so many parts of England have yet to develop and adopt a new Local Plan. Clarity within the NPPF has suffered in the pursuit of brevity.
Inconsistent drafting could create gaps in planning policy or guidance that could lead to a huge expansion in the size of Local Plans - as local authorities attempt to plug those gaps. The test for 'viability', as currently worded, risks allowing unsustainable developments to go ahead if measures to make them sustainable are deemed to make them unviable for the developer.
MPs also call for a sensible transition period to give local authorities time to put Local Plans in place where they have not already done so.

Planning Policy Statements (PPS):
Click here for a list of PPS titles from Communities and Local Governement
Related titles:
Find similar publications here:

Show all Subjects & Categories