PRINCE2 Agile®
Author:

AXELOS

Publisher:

TSO (The Stationery Office)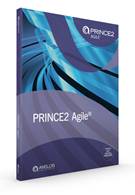 Add to Basket
The PRINCE2 Agile guide supports a new qualification which is being offered as an extension for those who already hold a PRINCE2 Practitioner qualification. PRINCE2 Agile is the most up-to-date and relevant view of agile project management methodologies and the only framework covering a wide range of agile concepts, including SCRUM, Kanban and Lean Startup.
Key features:
PRINCE2 Agile provides guidance on tailoring PRINCE2 in an agile context and covers:
How to tailor the integrated set of PRINCE2 principles, themes and processes

How to produce the PRINCE2 management products

How to map the common agile roles to the PRINCE2 project management team structure

How to incorporate the fundamental agile behaviours, concepts and techniques into PRINCE2
The strength of PRINCE2 lies in the areas of project direction and project management whereas agile has a very strong focus on product delivery. When PRINCE2 and agile are combined, project direction, project management and project delivery are all optimized to create the world's most complete project management solution.
NEW July 2016: PRINCE2 Agile 1st edition, 2nd impression
As part of the ongoing commitment to delivering high quality publications, AXELOS and TSO have updated the PRINCE2 Agile guidance with a new impression. These changes are focused on improving the overall quality and understanding of the guide both during the exam and in day-to-day use.
The core guidance itself (and the examinable content) remains unchanged, ensuring it is acceptable to use either the 1st or 2nd impression on a course and in the exam.
The main changes in the 2nd impression include:
15 new glossary terms, including; agile behaviours; agile plans; burn-down chart; burn-up chart; customer subject matter expert; Glad! Sad! Mad!; Lean Startup; Little's Law; MoSCoW; programme; project management; SAFe (scaled agile framework); Scrum; Scrum master; supplier subject matter expert. These terms are already covered in the guidance itself but have been added to the glossary for ease of reference. The updated glossary can be found here: https://www.axelos.com/glossaries-of-terms

Editorial corrections to improve overall readability in addition to improving the ease and accuracy of translation

A new foreword from new AXELOS CEO, Abid Ismail
More information...
PRINCE2 and agile each have their own strengths and when combined they complement each other and create a holistic approach to managing projects in an agile way. The majority of the guidance will be new to those familiar with PRINCE2, and will look at the interactions between the two approaches and how each needs to be adapted to accommodate the other. PRINCE2 Agile is also relevant for programme managers with MSP® who will need to understand not only how the programme relates to the projects, but also how projects relate to the delivery mechanism.

Find similar publications here: