Inter-Governmental Relations In The United Kingdom
HL 146, Eleventh Report of Session 2014-15
Author:

House of Lords - Select Committee on the Constitution

Publisher:

TSO (The Stationery Office)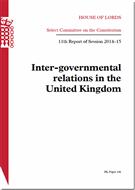 Add to Basket
The Select Committee report 'Inter-Governmental Relations In The United Kingdom (HL 146)' investigates how the UK Government and the devolved administrations in Wales, Scotland and Northern Ireland interact.
The main forum for these relations is the Joint Ministerial Committee (JMC). The report labels the communiqués published after plenary JMC meetings between the leadership of each administration 'bland and uninformative'.
The Committee states that the dates, venues and agenda items of JMC meetings should be announced further in advance and additional information should be published after the meetings.
The report makes recommendations to enable greater parliamentary scrutiny of inter-Governmental relations, including stating that Government departments should detail in their annual reports their engagement with the devolved administrations.
Find similar publications here: