A New Alcohol Strategy?
HL 123, Eighth Report of Session 2014-15
Author:

House of Lords - European Union Committee

Publisher:

TSO (The Stationery Office)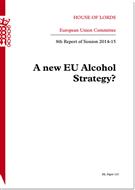 Add to Basket
Alcohol, when drunk to excess, is a significant cause of disease and premature death and can be a fuel for public disorder and crime; the House of Lords report 'A New Alcohol Strategy? (HL 123)' discusses an EU strategy for alcohol which considers the variations in cost and duties, as well as the laws on sale and on advertising, and in other aspects of policy aimed at reducing alcohol abuse and at treating the problems it causes.
Most states which do not altogether prohibit the consumption of alcohol have policies aimed at combating alcohol abuse. The EU does not however currently have a strategy on alcohol.
By a significant margin, Europe has the highest per capita alcohol consumption of any world region, and the United Kingdom is well above the average of the consumption league; but there are wide variations across the Member States and indeed regionally within Member States:
in the type and strength of alcohol consumed;

in the distribution of consumption by sex and by age; and

in the type and degree of harm caused.
Find similar publications here: