Civilian Use Of Drones In The EU
HL 122, Seventh Report of Session 2014-15
Author:

House of Lords - European Union Committee

Publisher:

TSO (The Stationery Office)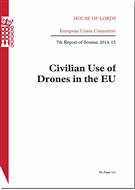 Add to Basket
The report 'Civilian Use Of Drones In The EU (HL 122)' examines non-military uses for drones, and outlines how drones may be used by civilians in the EU.
Drones, or remotely piloted aircraft systems (RPAS) are no longer used solely by the military. In the UK alone, there are now hundreds of companies, mainly small and medium-sized enterprises, using RPAS to provide a range of services, including photography, land surveying, building inspection and crop analysis.
RPAS will revolutionise what the aviation industry can achieve and how it is regulated. Europe must act now in order to reap the future benefits of this exciting new technology. This report evaluates the plans set out by the European Commission in a Communication in April 2014 to make Europe a global leader in the RPAS industry.
Find similar publications here: