Parliamentary Privilege
HL 30, HC 100, Report of Session 2013-14 - Report, Together with Formal Minutes and an Appendix
Author:

House of Lords, House of Commons - Joint Committee On Parliamentary Privilege

Publisher:

TSO (The Stationery Office)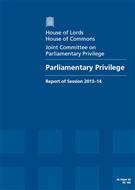 Add to Basket
Parliaments need certain rights or immunities to ensure they can operate freely and independently, in the United Kingdom Parliament such rights and immunities are provided by means of 'parliamentary privilege', this comprises the right of each House to control its own proceedings and precincts, and the right of those participating in parliamentary proceedings, whether or not they are Members, to speak freely without fear of legal liability or other reprisal, the report 'Parliamentary Privilege (HL 30, HC 100)' explores this legislation.
Parliamentary privilege came to public attention in the wake of the 2009 expenses scandal, when three former MPs and one member of the House of Lords accused of false accounting over their expenses, sought to argue that they ought not to be prosecuted because of parliamentary privilege.
The then Leader of the Opposition, Mr David Cameron, announced that, if elected, the Conservatives would legislate to implement the recommendations of the 1999 Joint Committee on Parliamentary Privilege - that parliamentary privilege should be embodied in a new and comprehensive Parliamentary Privileges Act, 'codifying parliamentary privilege as a whole'. The Government published a Green paper in April 2012.
The Committee does do not consider that comprehensive codification is needed at this time. This does not mean that it rejects all legislation, but legislation should only be used when absolutely necessary to resolve uncertainty, or in the unlikely event of Parliament's exclusive cognisance being materially diminished by the courts. They therefore disagree with the major recommendation of the 1999 Joint Committee report.
Parliamentary privilege is a living concept. It evolves as Parliament evolves, and as the law evolves.


Show all Subjects & Categories