Report on the First Periodic Review of Scottish Parliament Boundaries
Author:

Woolman, S.E. (Deputy Chairman); Graham, E. (Commissioner); Macdonald, K. (Commissioner): Boundary Commission for Scotland

Publisher:

TSO (The Stationery Office)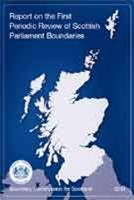 Add to Basket
The Boundary Commission for Scotland presents their 'Report on the First Periodic Review of Scottish Parliament Boundaries'. This Report shows the alterations the Commission proposes to constituency and regional boundaries or states whether no alterations should be made.
Chapters include:
Introductions

Principles

Statutory rules for constituencies and region

Procedure

Final recommendations

Conclusion

Appendices.

Find similar publications here:

Show all Subjects & Categories