Support and Aspiration: a New Approach to Special Educational Needs and Disability: a Consultation
Cm. 8027
Author:

Department for Education (DfE)

Publisher:

TSO (The Stationery Office)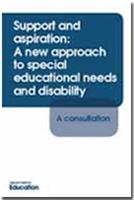 Add to Basket
'Support and Aspiration: a New Approach to Special Educational Needs and Disability: a Consultation (Cm. 8027)' unveils proposals for the biggest programme of reform in the education and health support for children with special educational needs (SEN) and disabilities in 30 years.
The Government wants to fundamentally reform the SEN system to address problems including:
parents having to battle to get the support their child needs;

SEN statements not joining up education, health and care support;

children falling between the gaps in services or having to undergo multiple assessments;

multiple layers of paperwork and bureaucracy adding delays to getting support, therapy and vital equipment; and

confusing and adversarial assessment process, with the perceived conflict of interest where the local authority must provide SEN support as well as assess children's needs.
Too many children are being over-identified as SEN, preventing them from achieving their potential because teachers have lower expectations of them.
The Government proposes to:
Include parents in the assessment process and introduce a legal right, by 2014, to give them control of funding for the support their child needs.

Replace statements with a single assessment process and a combined education, health and care plan so that health and social services is included in the package of support.

Ensure assessment and plans run from birth to 25 years old.

Replace the existing complicated School Action and School Action Plus system with a simpler new school-based category to help teachers focus on raising attainment.

Overhaul teacher training and professional development; inject greater independence from local authorities in assessments.

Give parents a greater choice of school and the power to set up special free schools.

Find similar publications here:

Show all Subjects & Categories