Service Delivery Book
12th impression
Author:

Office of Government Commerce (OGC)

Publisher:

TSO (The Stationery Office)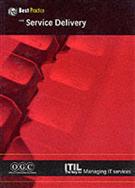 Service Delivery is the second element in the new ITIL Infrastructure Library to be published. Service providers need to offer business users adequate support - Service Delivery covers all aspects that must be taken into consideration.
Issues covered include Service Level Management, Financial Management for IT Services, IT Service Continuity Management, Availability Management, Contingency Planning and Capacity Management. Each component of service delivery is discussed separately in the book. The purpose of Service Delivery is to show the links and the principal relationships between all the Service Management and other Infrastructure Management processes.
Accessible formats: For customers who are visually impaired or have other accessibility needs, this publication is available in other formats. Please contact customer services on +44 (0)870 6005522 for details.