Buncefield: Hertfordshire Fire and Rescue Service's Review of the Fire Response
Author:

Hertfordshire Fire and Rescue Service

Publisher:

TSO (The Stationery Office)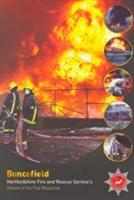 Add to Basket
The Explosion and fire at the Buncefield Oil Storage Depot involved 22 tanks. The main fires were extinguished in three days but the overall fire response lasted 26 days and 642 fire appliances were moved to the incident. This report sets out the chronological sequence of events and reviews the fire response.
It covers:
pre-planning and pre-training;

the response of the Hertfordshire Fire and Rescue Service;

the response by other fire provider and supporting organisations; and

presents the learning points of local, national, and international significance, which are drawn both from good practice at the incident and the areas that could have been improved.