Undercover Policing: Interim Report
HC 837, Thirteenth Report of Session 2012-13 - Report, Together with Formal Minutes, Oral and Written Evidence
Author:

House of Commons - Home Affairs Committee

Publisher:

TSO (The Stationery Office)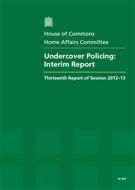 Add to Basket
The report 'Undercover Policing: Interim Report (HC 837)' discusses the need for a fundamental review of the law governing undercover police operations, including the Regulation of Investigatory Powers Act 2000.
The Committee finds that there is an unsatisfactory degree of ambiguity in the current legal framework governing undercover operations, and that the current legislation fails to adequately safeguard the fundamental rights of the individuals affected.
The use of the identities of dead children to create cover identities for undercover officers could potentially put bereaved families at risk. There should be a full and unambiguous apology from the forces concerned to the families and the practice should never be followed in future. Operation Herne, which is investigating these allegations, has already cost £1.2million and has not yet made any arrests. It should be brought to a conclusion as swiftly as possible, so that families and victims involved can achieve closure.
In conclusion, the Committee recommends the publication of a consultation paper before the next election, with a view to publishing draft legislation at the beginning of the next Parliament.
Find similar publications here: