Financing of New Housing Supply
HC 1652, Eleventh Report of Session 2010-12 - Volume I: Report, Together with Formal Minutes, Oral and Written Evidence
Author:

House of Commons - Communities and Local Government Committee

Publisher:

TSO (The Stationery Office)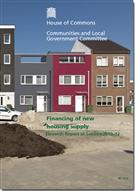 Add to Basket
'Financing of New Housing Supply (HC 1652)' concludes that the Government must employ a basket of measures, covering all tenures of housing, if sufficient finance is ever to be available to tackle the country's housing crisis.
For decades, successive Governments have failed to deliver sufficient homes to meet demand. The country faces a significant housing shortfall, and the financial crisis has amplified the problem. In England, 232,000 new households are forming each year, and yet in 2011 fewer than 110,000 new homes were completed.
The Committee sets out four key areas for action:
large-scale investment from institutions and pension funds;

changes to the financing of housing associations, including a new role for the historic grant on their balance sheets;

greater financial freedoms for local authorities; and

new and innovative models, including a massive expansion of self-build housing.
Taken together, these ideas could go a long way to raising the finance needed to meet the housing shortfall.
Find similar publications here: