The Voluntary Carbon Offset Market
HC 331, Sixth Report of Session 2006-07 – Report, Together with Formal Minutes, Oral and Written Evidence
Author:

House of Commons – Environmental Audit Committee

Publisher:

TSO (The Stationery Office)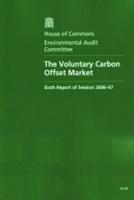 Add to Basket
The voluntary carbon offset market allows companies, public bodies, and individuals the opportunity to purchase credits generated from projects that either prevent or reduce an amount of carbon entering the atmosphere, or that capture carbon from the atmosphere. In the voluntary market, consumers can offset against a particular one-off activity such as a flight, or for something more long-term such as their annual electricity consumption. Consumers can purchase offsets through either an offset provider, a project directly, or through a company offering offsets as part of their package of goods or services.
'The Voluntary Carbon Offset Market (HC 331)' examines:
the relationship between the voluntary carbon offset market and the compliance market;

the role and purpose of offsetting;

whether there should be a compulsory accreditation scheme for carbon offset projects and providers, in relation to the aviation sector for example;

the need for transparency of information within the market; whether the science base is sufficiently accurate to measure carbon reductions, particularly in forestry and land-use; and

the role of government and Defra's consultation on a Code of best practice for the provision of carbon offsetting to UK customers.
Amongst the 28 conclusions and recommendations made, the Committee highlights the need for the Government to promote greater understanding about the voluntary carbon offset market and the role it can play in helping to reduce emissions.
Find similar publications here: