Draft Climate Change Bill
HC 534-I, Fifth Report of Session 2006-07 – Volume I: Report, Together with Formal Minutes
Author:

House of Commons – Environment, Food and Rural Affairs Committee

Publisher:

TSO (The Stationery Office)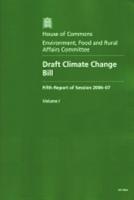 Add to Basket
'Draft Climate Change Bill (HC 534-I)' examines the draft Climate Change Bill, which published in March 2007 as Command paper ('Draft Climate Change Bill (Cm. 7040)' – ISBN 010170402X, available below). Target setting alone cannot deliver policy objectives, but enshrining one in law will strengthen the Government's resolve to achieve it, ensure greater public accountability, and give confidence to the business community whose investment decisions are central to meeting the target.
The Committee recommends a number of changes to the bill, including:
Inconsistency in language, with 'UK carbon account' and 'UK carbon dioxide emissions' seemingly used interchangeably, should be addressed.

There should not be an upper limit on the 2020 target (26-32% reduction in carbon dioxide emission), and the Bill should make provision for both the 2020 and 2050 targets to be revised, though only in an upward direction.

The provision to amend a budget more than a year after the end of a budgetary period is seen as making nonsense of the concept of budgetary periods, and should be removed completely.

The proposed Committee on Climate Change, rightly composed of experts, should not appear to give more representation to economic interests over environmental ones.

The resources proposed for the Committee may prove inadequate.

The impact of climate change on biodiversity should be added to the Bill.
The accompanying 'Draft Climate Change Bill – Volume II: Oral and Written Evidence (HC 534-II)', ISBN 0215034910, is available to buy separately (see below).
Find similar publications here: