Motorcycle Riders
Show me:
Motorcycle Roadcraft: The Police Riders Handbook to Better Motorcycling
Author:

Police Foundation

Publisher:

TSO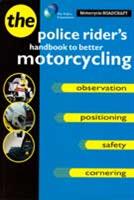 Add to Basket
Motorcycle Roadcraft has been developed under the guidance of a group of police motorcycle trainers, with input from police riders, trainees and civilian experts, and is for police trainees and other riders concerned with getting the best from their machines. It gives the fullest, most authoritative information available on safe and effective methods of riding a bike.
Motorcycle Roadcraft has already established itself as the leading manual on motorcycle riding. This new edition has been completely rewritten to reflect changes in advice and in regulations. It includes:
full colour illustrations explaining the importance of correct positioning and hazard awareness

a chapter on motorway riding

notes of main learning points and reviews and questions for each chapter

a glossary and index
Motorcyclists are on average 35 times more at risk of death or serious injury than car drivers. Safe riding is a must for every rider, and Motorcycle Roadcraft will help you improve your riding standards.
Have you used one of the Roadcraft titles? If so, we'd like to hear from you. Please take a couple of minutes to complete our short survey to tell us what you think: http://www.surveymonkey.com/s/roadcraft
Advice from the experts about becoming a better rider.
Find similar publications here: