ITIL® 4 Managing Professional High Velocity IT
PDF
Author:

AXELOS

Publisher:

TSO (The Stationery Office)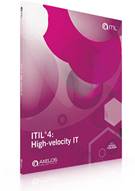 Add to Basket
ITIL is a widely adopted body of knowledge and best practices for successful IT Service Management that links with training and certification. ITIL 4 has evolved from the previous version by re-shaping much of the established ITSM practices in the wider context of customer experience; value streams and digital transformation; as well as embracing new ways of working, such as Lean, Agile and DevOps.
Key features:
ITIL 4 provides the guidance organizations need to address new service management challenges and utilize the potential of modern technology. It is designed to ensure a flexible, coordinated and integrated system for the effective governance and management of IT-enabled services.
The 'ITIL 4 Managing Professional' range comprises the Higher Level ITIL 4 publications and follows on from ITIL 4 Foundation. Their audience ranges from those who have undertaken ITIL 4 Foundation, those who are responsible for managing IT-enabled products and services, to seasoned professionals familiar with earlier versions of ITIL and other sources of industry best practice who wish to transition across to ITIL 4 and become an ITIL Managing Professional.
High Velocity IT forms one publication in the essential supporting guidance for the Managing Professional certification pathway.
Delegates must undertake all four modules of; 'Create, Deliver and Support', 'Direct, Plan and Improve', 'Drive Stakeholder Value' and 'High Velocity IT' to become an ITIL Managing Professional. All modules have a supporting publication and are available as a package with exclusive immediate online access to content to support learning.
All titles are also available as a package to support learning across all modules and in support of the ITIL 4 Managing Professional Transition Module which covers elements of all four.
Key features
This guide explores the ways in which digital organisations and digital operating models function in high velocity environments.
ITIL 4 Managing Professional: High Velocity IT will:
help practitioners to operate in a similar way to successful digitally native organizations

cover the use of working practices such as Agile and Lean, and technical practices and technologies such as Cloud, Automation, and Automatic testing focussing on rapid delivery of products and services for maximum value

act as a reference guide that practitioners can use in their work, further studies and professional development.
Alternative formats
Managing Professional examinable Practices available through My ITIL.
Find similar publications here: