Life in the United Kingdom: A Guide for New Residents
3rd edition - book
Author:

Great Britain Home Office

Publisher:

TSO (The Stationery Office)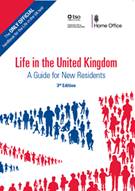 Add to Basket
Ensure you are fully prepared for your Life in the UK test with the only official handbook from the Home Office, published by TSO.
Free Delivery on all Life in the United Kingdom publications for a limited time only (terms and conditions apply).
This essential handbook covers the range of topics you need to know to pass your test and apply for UK citizenship or permanent residency, including:
The process of becoming a citizen or permanent resident

The values and principles of the UK

Traditions and culture from around the UK

The events and people that have shaped the UK's history

The government and the law

Getting involved in your community
Other formats available:
Need help? Speak to our Customer Services team on tel. 0333 202 5070
More information
To help you prepare for your test, you will find:
'Check that you understand' boxes at the end of every section

A glossary of key words and phrases

If you're interested in this, you might also be interested in...
Find similar publications here:

Show all Subjects & Categories