The Big Society
HC 902-I , Seventeenth Report of Session 2010-12 - Volume I: Report, Together with Formal Minutes, Oral and Written Evidence
Author:

House of Commons - Public Administration Select Committee

Publisher:

TSO (The Stationery Office)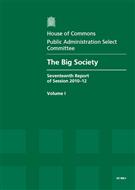 Add to Basket
'The Big Society (HC 902-I)' by the Public Administration Select Committee (PASC), warns that the Big Society project is hampered by the lack of a clear implementation plan, leading to public confusion about the policy agenda, eighteen months into this administration.
PASC has yet to see how the Government will engage charities and voluntary groups who wish to deliver public services. The Government must address the barriers such bodies experience in the contracting and commissioning system, which means developing a plan to address roles, tasks, responsibilities and skills in Whitehall departments.
The report concludes two major steps Government must take:
Firstly they must create a single Big Society Minister, who has a cross-cutting brief, to help other Ministers to drive through this agenda once they begin reporting progress against the aims of Open Public Services White Paper, from April 2012.

Secondly they need to implement an impact assessment, to be applied to every Government policy, statutory instrument, and new Bill, which answers the simple question: "what substantively will this do to build social capital, people power, and social entrepreneurs?".
PASC says early examples in practice like the Work Programme have left service providers such as the charitable sector - who would play a major role in the Big Society - with serious reservations. The danger is that big contractors and the largest charities continue to dominate at the expense of small and local providers.
EU contracting rules need to be revised and smaller providers should be consulted on the legislative and bureaucratic barriers.

Related titles:
Find similar publications here:

Show all Subjects & Categories