Regional Strategy for Protecting Health from Climate Change
Author:

World Health Organization (WHO)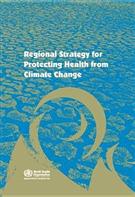 Add to Basket
This Regional Strategy for Protecting Health from Climate Change has been developed to fulfil the decisions taken at the twenty-fifth, twenty-sixth and twenty-seventh Meetings of Ministers of Health of the Member States of the South-East Asia Region held in Thimphu, Bhutan in 2007; in New Delhi, India in 2008, and in Kathmandu, Nepal in 2009.
These meetings urged WHO to formulate a regional strategy to combat the adverse health impacts of climate change. WHO was also requested to provide technical support for applied research, facilitate knowledge-sharing between Member States, assist in resource mobilization and facilitate regional coordination to voice common concerns at the United Nations Framework Convention on Climate Change (UNFCCC).
In addition, the Regional Committee in 2009 (SEA/RC62/R2) urged the WHO Regional Office for South-East Asia to develop a strategy for funding health-related climate action plans. This document is expected to assist Member States in developing, strengthening and updating their national strategies and plans of action on climate change and health.
Find similar publications here: