European Pharmacopoeia 6th Edition
Supplement 6.1
Author:

European Directorate for the Quality of Medicines - Council of Europe (COE)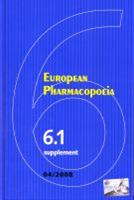 Add to Basket
The 6th edition of the European Pharmacopoeia came into force on 1 January 2008 and consists of a two-volume main edition. It will be updated on a regular basis with one supplement following in October 2007, three in 2008 and 2009, and the remaining supplement in 2010 to create a collection of eight non-cumulative supplements.
Key features:
Over 1800 specific and general monographs will be published.

Contains all types of active substances used to prepare pharmaceutical products: various chemical substances, antibiotics, biological substances, vaccines for human or veterinary use, Immunosera, Radiopharmaceutical preparations, herbal drugs and homoepahtic preparations.

Also contains dosage forms, general monographs, materials, containers and sutures.

Around 268 general methods with figures or chromatograms.

Over 2210 reagents will be described.
Supplement 6.1, effective from 1 April 2008, presents the first (non-cumulative) supplement to the Main Edition (ISBN 9287160546). This supplement will be dispatched when it publishes in September 2007.
The Main Edition and Supplement 6.2 are available to order separately and as a pack including Supplement 6.1, and are also available in CD-ROM format. Supplements 6.3, 6.4 and 6.5 are available to buy individually and as a pack. Please see below.
Overseas trade customers: Please contact our Key Trade desk: keytrade@tso.co.uk

If you're interested in this, you might also be interested in...
Find similar publications here:

Show all Subjects & Categories